Hey y'all.
So if you haven't been living under a fashion rock for the past week you've probably realized that its that time of the month again (cuz letz be ril guise designers put out some random collection every month.) IT'S RESORT 2013 BABE. However, unlike other seasons, I almost ALWAYS love resort, for several reasons:
a. Desingers are less afraid to be dipshits
Anywho! To kick off my resort coverage I thought it would be somewhat "relavent" to connect Stella McCartney's collection to Arrested Development cuz itz not lk Arrested Development haz b33n off air 4 5 yrs or anythong.
On a personal level I actually really like good ol' Stella. I remember a couple months ago when the NYT magazine interviewed her. It was that issue that I really felt like I could appreciate what she does. Like everyone else I was incredibly skeptical, sure she was talented but 4 RILLZ. She had $$$ so if she failed it was like nbd.
In other words I was having a big fucking Lucile moment. But not too much of a Lucile moment because I don't drink vodka because I'm bored and complain all of the time. I say this because I complain most of the time.
Sample conversation with my parents:
Me: OMG I H8 MY LIFE IM SO MOODY ND IM PMS-ING LIKE CRAY CRAY CLAM CHOWDER.
Stella McCartneyxSea Punk. Stella bb I am feeling sum seapunk vibez with ur super kewl handbaggie. Basically this look *speakz 2 me* itz very 1990's raver girl meets something my grandmother might wear to play bridge. Th3 onlee r3ason i g0t a gd grad3 0n my 3ngl1sh f1nal wuz that 1 wr0t3 it n l33t sp3ak.
Itz true. JUST LOOK AT LINDSEY'S SHIRT.
Can we plzz talk about how fuckin awesome this look is. I mean look at those pants.
LOOK AT THOSE SHOEZ N TOP N OMG. Stella is FEISTY n ready to rock! Wut is going on rt now i hate this computer . FUQ U GOOGLE CHROME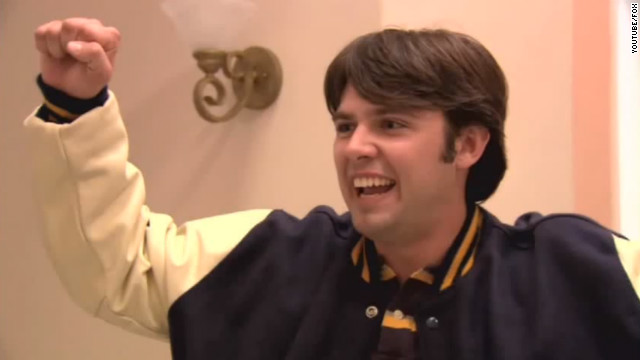 All in all, if Steve Holt saw this look he'd be all "STEVE HOLT" and then try to pet the suit because he thought the
leopard print was made out of rl leopards.
Oh Steve ur so wise bb
The main problem I had with this collection was the dresses. i actually really disliked the majority
and looks like a bad Jil Sander ripoff. SMH
of the dresses she made. They really don't do anything for me to be 4 rills. LK I WUD
NOT WEAR THAT 2 FASHUN WEEK CUZ ITZ NOT GUCCI ENUF.
Seriously thought, minus 10 points for Stella right now. The cut of this dress is incredibly awkward
Well that's all 4 now! Tune in next week because I'm giving away free tampons and false hope
*All lookbook photos are from Vogue. Arrested Development photos are all from tumblr