Art Credit:
Autumn Sorman
At Some Point in your life you've encountered one, or perhaps at some point in your life you were one. Fact of the matter is, those awful hipster kids exist. With their ironic style, and their "who gives a shit I can smoke weed in CVS." way of life, I bet the last thing you want to do is buy them gifts for the holiday of the current religion they practice (Hint: It's probably Taoism because the tao is the way maaaan)
TopShop scalloped skirt
, £38
TopShop panties thong
, $8
T.U.K. punk rock shoes
, $70
American Apparel vintage looking jewelry
, $16
ASOS oversized jewelry
, $11
Ray-Ban tortoiseshell sunglasses
, $145
Manic Panic colour cream - green hair dye- manic panic hair 36988 UK
, £9.95
Neon Nail Polish
, $6
Supreme: Snow White Oxford Shirt - Red
, $136
Supreme: Bolivia Beanie - Navy
, $30
8" Talking Angry Bird Pig Plush - Plain - One Size
, $15
Urban Outfitters - Animal Farm
, £8.99
If you know anything about Hipsters, you know they like super ironic gifts. Your hipster niece would kill to get her hands on the newest edition of the communist manifesto because you know like Marx totally gets her angst. It's like he's speaking at her! She will also love distopia themed books like 1984! The other thing about hipsters is they love super dorky stuff like angry birds pillows! You know like it's super crazy to have like an over-rated child's ipod game in stuffed animal form! Great for parties!
But what the key to hipster clothing searches is the iconic pair of ray-bans. It's cool to look like your in DEVO. Get with it mom and dad.
Music can be tricky as your hipster may have a taste ranging from Beethoven (he's a genius) to Joy Division (Love will tear us apart is totally like that time were I broke up with my girlfriend because turns out I'm straight) Or even current electronic sensation Justice (D.A.N.C.E reminds me of that time were i did LSD because I was at this Coldplay concert and I was having bad menstrual cramps so I asked if anyone has motrin but oopsies! It was LSD)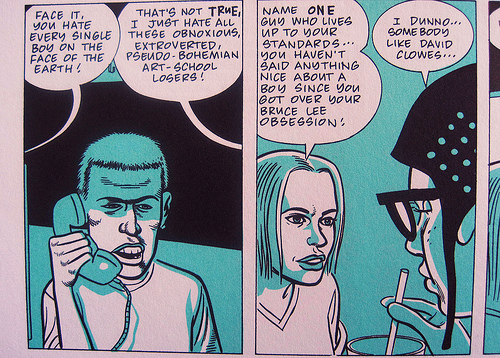 Credit: Ghost World
Good Luck this season with buying your hipster presents for what ever practice they follow (Once again, how much you want to bet they're a taoist)
You'll probably fail because hipsters hate everything!